Emily Dickinson was an American poet. A prolifically private poet, very few of her nearly eighteen hundred best poems were published during her life. Many publishers edited her works to fit the conventional poetic rules of the time. Dickinson's poems were quite unique for the times in which she wrote. Her poems generally dealt with themes of love, death and immortality. Dickinson lived much of her life in isolation. Thought to be an eccentric by locals, she had a penchant for wearing white clothing. Somewhat anti-social, Emily was known for her reluctance to greet guests or even leave her room. She had never married.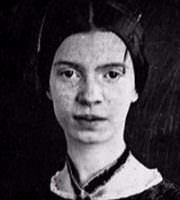 I Cannot Live With You
I cannot live with you,
It would be life,
And life is over there
Behind the shelf
The sexton keeps the key to,
Putting up
Our life, his porcelain,
Like a cup
Discarded of the housewife,
Quaint or broken;
A newer Sevres pleases,
Old ones crack.
I could not die with you,
For one must wait
To shut the other's gaze down,
You could not.
And I, could I stand by
And see you freeze,
Without my right of frost,
Death's privilege?
Nor could I rise with you,
Because your face
Would put out Jesus'.
That new grace
Glow plain and foreign
On my homesick eye,
Except that you, than he
Shone closer by.