And once again, Robert Frost pours us his poetic potion with another of his best-loved classics. (Robert will grace us again later in the list.) "Stopping By Woods on a Snowy Evening" grips the reader and holds their attention throughout and the repetition on the final lines is ingrained on their hearts and minds. One of my favorite pieces (of the many favorites), this piece comes in at #19.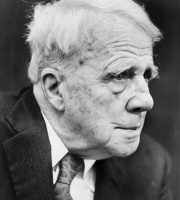 Stopping by Woods on a Snowy Evening
by Robert Frost
Whose woods these are I think I know.
His house is in the village, though;
He will not see me stopping here
To watch his woods fill up with snow.
My little horse must think it queer
To stop without a farmhouse near
Between the woods and frozen lake
The darkest evening of the year.
He gives his harness bells a shake
To ask if there is some mistake.
The only other sound's the sweep
Of easy wind and downy flake.
The woods are lovely, dark and deep,
But I have promises to keep,
And miles to go before I sleep,
And miles to go before I sleep.