The "AND I QUOTE" prompts will take a quotation from some random person of note and be the basis for our poetry. We've used this idea to some great effect in the past, so if it ain't broke…
Today's quote:
"If you wish to forget anything on the spot, make a note that this
thing is to be remembered." ~Edgar Allan Poe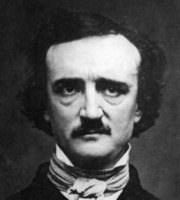 You are asked to write about something you've forgotten. Write of something you wish you could forget. Or write a memory that has stayed with you for a long time that even "without a note," you've remembered.
MARIE'S MEMORY (OR LACK THEREOF):
SCATTER BRAINED
It's not so much in the forgetting,
nor even in the retrieving.
See, it's in the connecting.
Though my brain is smallish,
that which is stored
here,
is far too often not perceiving
that which is stored
there.
The nerve!
Apparently my data is shy –
certified tongue-tied.
Unwilling to bond with
or respond to
the other facts and files
in my brain's adjacent aisles.
They may as well be miles apart.
Oh the trials that stem
from data that scatters.
It matters.
© Marie Elena Good, 2018
WALTER'S WISTFULNESS WONDERING:
ON FORGETTING TO FORGET
My memory is dotted with crisp images
that have ingrained into the depth of my soul.
I have no control over them; they lay dormant,
only to bubble to the surface when I least expect.
Trying in vain to relinquish these old feelings,
I reel with remorse, this sad course I contemplate
leaves me silent and still and alone.
And so, I am left kneeling in supplication,
a broad brush of despair paints me.
Pagliacci's clown cries out from within, making a spectacle
of my mirth and mired muse. My resolution
refuses to take hold; these memories dominate me.
It is too late. Love languishes.
© Walter J Wojtanik – 2018